Update/Status:
July 22, 2017 - we are open today Saturday from 8 - 6 p.m.
Please know that we may get rain about 9 a.m., but we will continue
to be open, (we have grass between the rows).
l
**
See Fruit pages for
hours and prices.


Blueberry picking:
Lots of blueberries to be picked and quick picking today.
Perfect weather right now, partly cloudy and almost no bugs.(yeah)

Note: We will have biggest Blueberry contest again this year.
Biggest berry (World record is 11.4 grams) We will track and the
winner will be announced at the end of the season on the web
page and a certificate along with a prize (yet to be determined)
will be given.

Raspberry picking:
We will be picking raspberries on Saturday at 8 am, if you want them please make
sure you are here when we open. Raspberries are loaded this morning for fast and
easy picking (right now).
**Please note that we only have a small area of raspberries and it gets picked out fast,
Thank you.


*****Information about the farm*****
We have been growing blueberries, apples and raspberries for 30 years. See our story on the (History link) We have been selling our fruit off the farm and at the local farmers market for 30 years. If you don't have a chance to get to the farm, we have our fruit at the Princeton Farmers Market on Saturday, Zimmerman Farmers Market on Tuesday, Isanti Farmers Market on Friday and several other places. See Where to Find our Fruit link.


Bees/natural pollinator information: We were part of a University of Minnesota Natural Pollinator
study in 2015 and it turns out that our farm has one of the largest natural bee/pollinator populations.




Cash, Check or Credit/Debit cards accepted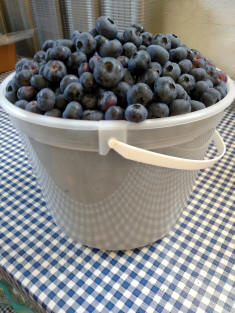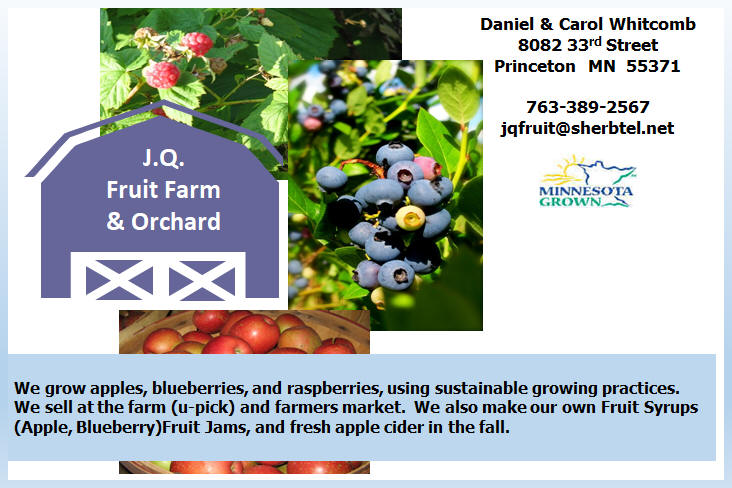 iii
Upd