Update/Status
: October 13, 2018
Yes, we are still open, it is suppose to be a beautiful
weekend, so bring the family and enjoy the fall colors
and the delicious apples.

Weekends only, hours 9-5 p.m.
(Saturday and Sunday).
Pick your own apples, (we grow 14 different
varieties). For more information see apple link above.

Apple Varieties Currently available: Chestnut, Honey Gold,
Haralson, Sweet 16, Northwest Greening,
Connell Red, SnowSweet, Keepsake and Frost Bite.

Fresh Apple cider for Sale.... We make fresh, so when it's gone,
a fresh batch will be made the following weekend.

Strollers and wagons are welcome for children, so bring them,
and enjoy the time in the orchard.

If you are coming out and you require special assistance,
please call ahead and we will make arrangements for you to
get out into the orchard. thank you.





Frozen Blueberries are now sold out.







*****Information about the farm*****
We have been growing blueberries, apples and raspberries for 31 years. See our story on the (History link) We have been selling our fruit off the farm and at the local farmers market for 30 years. If you don't have a chance to get to the farm, we have our fruit at the Princeton Farmers Market on Saturday, and Isanti Farmers Market on Friday (starting on June 1st).

Bees/natural pollinator information: We were part of a University of Minnesota Natural Pollinator
study in 2015 and it turns out that our farm has one of the largest natural bee/pollinator populations.




Cash, Check or Credit/Debit cards accepted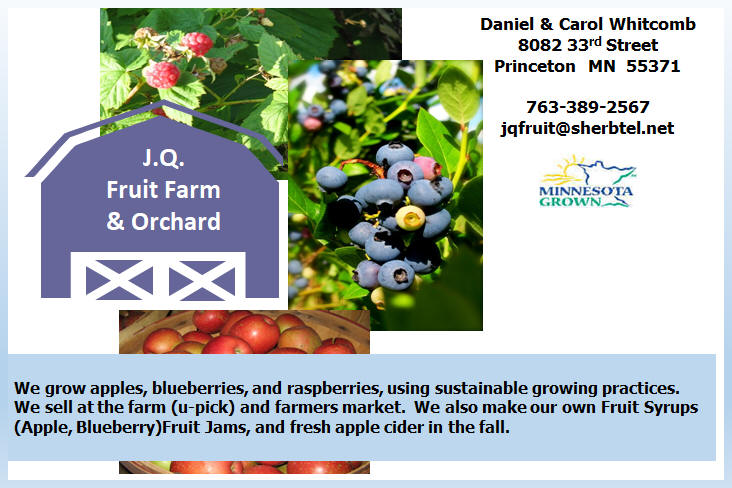 iii
Upd